Physical Therapy for Knee Pain in Gallatin and Nashville, TN
Physical therapy for knee pain consists of certain exercises and treatments designed to alleviate knee-related symptoms and promote healing. Knee pain, swelling, a limited range of motion, and difficulty performing activities are all symptoms that might need physical therapy. At Southern Sports Medicine Institute, Dr. Thomas Gautsch MD and his team offer physical therapy for knee pain. For more information,

contact us

or

schedule an appointment

online today. We have

convenient locations

in Gallatin and Nashville TN.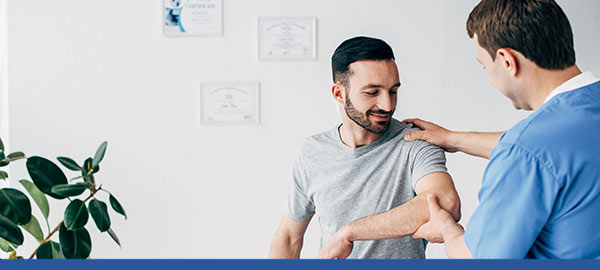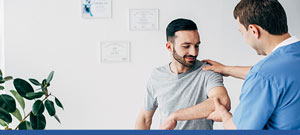 Table of Contents:
What does a physical therapist do for knee pain?
What knee conditions can physical therapists help with?
Can knee therapy prevent surgery?
How long does it take for physical therapy to work on the knee?
Knee injuries and conditions are common for patients of any age as we use our knees every single day, putting extra weight on them frequently, placing quite a bit of strain on them throughout our lifetimes. Physical therapy is a very effective treatment for a wide variety of knee conditions or injuries, restoring complete strength and mobility, sometimes as a means to recover from a surgical procedure, but often used in place of more invasive treatment options.
What does a physical therapist do for knee pain?

Physical therapy will often be recommended for patients suffering from all kinds of chronic or acute pain, especially knee pain. One of the most common reasons a patient would start visiting a physical therapist is to find pain relief, but the therapist will provide several different stretches and exercises that will not only relieve a substantial amount of pain, but will also strengthen the muscles to restore mobility and functionality to the knee. They may also use other methods, such as acupuncture or massage therapy if those other types of interventions will prove beneficial to the individual patient's condition. More specifically, a physical therapist will likely use several components including stretching, exercising, icing and heating, massage, and electrical muscle or nerve stimulation to treat knee pain.
What knee conditions can physical therapists help with?

There are quite a few conditions and injuries that can be effectively treated through physical therapy, some of which will be injuries or conditions that directly affect the knee, and many that are underlying conditions that have indirectly affected the function and mobility of the knee.

Examples of knee conditions and injuries that would likely benefit from physical therapy include:

– Knee fracture
– Knee dislocation
– ACL tear
– Meniscus tear
– Knee tendonitis
– Osteoarthritis (both directly in the knee or just in general)
– Knee bursitis
– Knee ligament sprain

It is also very common for patients who have undergone a surgical procedure to be referred to a physical therapist as part of the recovery process, often allowing patients to recovery much faster and more effectively as they are monitored while increasing strengthen and mobility in the knee in a way that is proactive to recovery and won't cause further injury before the knee has been able to fully heal.
Can knee therapy prevent surgery?

While many people associate physical therapy with recovery from a surgical procedure, it can also be used for patients who are on track to need surgery on their knee to often delay needing the procedure, and sometimes even avoid needing surgery altogether. By working with the patient to regain strength in the knee, improving mobility and overall functioning of the joint, it is entirely possible that the patient will be able to learn how to use the knee without incurring further damage to the joint, and having to use other parts of the body to compensate. That being said, the ability to avoid needing a surgical treatment is entirely dependent on the condition or injury that is causing the knee problems, as well as the physical health of the patient. Not everyone who goes to physical therapy will be able to completely erase the need for a surgical procedure.
How long does it take for physical therapy to work on the knee?

Every patient who goes to physical therapy will have their own customized treatment plan that will affect the total timeline of recovery depending on the severity of their condition, and if there are any other factors in their lives that will influence the amount of time they can contribute to the recommended exercises and stretches, as well as any other treatment options. Most patients can expect that their customized treatment plan will include 2 to 3 weekly appointments likely for at least 6 to 8 weeks, and then gradually lessening as the strength and mobility is improved in the affected knee. This treatment plan will also depend on what type of injury or condition is being treated, as muscle typically only takes around 2 to 4 weeks to treat, tendons will take around 4 to 6 weeks, bones will take around 6 to 8 weeks, ligaments will likely take closer to 10 to 12 weeks, and cartilage will likely take around 12 weeks of regularly scheduled physical therapy to fully recover.

At the Southern Sports Medicine Institute, we have physical therapists who specialize in treating patients with chronic knee pain. For more information, contact us or schedule an appointment online today. We have convenient locations in Gallatin and Nashville TN. We serve patients from Gallatin TN, Nashville TN, Portland TN, Hendersonville TN, Lafayette TN, Castalian Springs TN, Westmoreland TN, Hartsville TN, Cottontown TN, Old Hickory TN, Goodlettsville TN, Springfield TN, Red Boiling Springs TN, White House TN, Lebanon TN, Greenbrier TN, Bowling Green KY, Bethpage TN, Lavergne TN, Franklin TN, Hermitage TN and Mount Juliet TN.