What to Know about Biceps Tenodesis Surgery?
If you believe you are exhibiting symptoms of a biceps tendon tear, contact Dr. Thomas Gautsch MD and the team of medical experts at Southern Sports Medicine Institute today to see an orthopedic surgeon to review your symptoms and receive a proper diagnosis before completing a biceps tenodesis surgery. For more information,

contact

us today or schedule an appointment online. We have convenient locations for you in Gallatin, TN and Nashville, TN.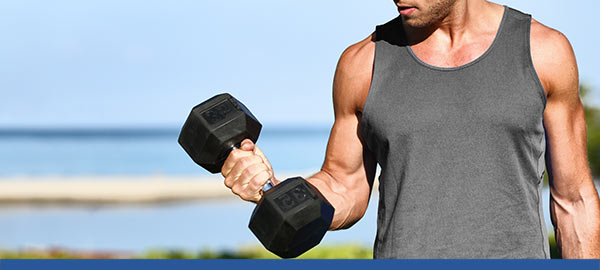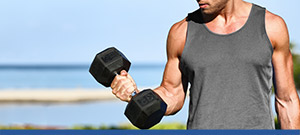 Table of Contents:
Why is a biceps tenodesis performed?
What Type of Injury Requires a Biceps Tenodesis?
What Symptoms can Lead to Biceps Tenodesis?
Who is the candidate for this surgery?
Why is a biceps tenodesis performed?
Biceps tenodesis surgery is performed when you tear or damage your tendon which connects your bicep muscles to your shoulders. This type of tendon injury is called biceps tendonitis.

There are a few factors as to the cause of your bicep tendon tearing, a few causes include:

– Age
As we age, the biceps tendon begins to wear out over time, causing tears to occur easier.

– Activity
Your activity level in sports like swimming, baseball, and tennis where your arms are constantly moving and reaching overhead can cause a tear.

– SLAP tear
SLAP tears are an injury that occurs when the labrum tears as well as the biceps tendon that can tear or is in the process, or has completely disconnected from your shoulder altogether.

Often a full recovery from a biceps tenodesis takes between four to six months. This can only be done with check-ups, maintenance with at-home routines to help, and if necessary, visiting a physical therapist to help with rehabilitation.
What Type of Injury Requires a Biceps Tenodesis?
There are two main joints within the shoulder which are known as the acromioclavicular joint, and the glenoid fossa/humerus attachment. Around and within these groups of joints are a group of muscles known as the rotator cuff tendons. Each tendon attaches to bone and muscle. The long head of the biceps, which is known as the stabilizer of the shoulder joint, is found within these groups of muscles.

The most common type of bicep injury we often see occurs at the long head of the biceps tendon. Lesions at the long head of the bicep tendons will lead to issues like fractures of the humerus bone.

These tendons are often easily unstable and torn, which can cause a lot of pain in the shoulder. A biceps tenodesis will help to repair any tendons that were torn.
What Symptoms can Lead to Biceps Tenodesis?
The symptoms that you may notice that can lead to you needing necessary biceps tenodesis surgery include:

– Shoulder pain that hasn't ceased even with rest, pain medication, and physical therapy
– You feel a sharp sudden pain within the upper arm, and a noise like popping or snapping
– A cramping sensation within the upper arm, particularly when you've been lifting or carrying heavy objects
– An unusually large bulge has surfaced in your upper arm. The bulge in question is known as the Popeye bulge
– Swelling and/or bruising is occurring from your upper arm to the elbow
– You struggle to rotate your arm so that your palm is facing up

The biceps tenodesis surgery is completed to treat your shoulder and biceps muscle pain and weakness which often occurs when you tear your long head biceps tendon. All of the symptoms above that were mentioned will indicate to our specialists if you need surgery, as well as any diagnostic imaging.

The long head biceps tendon is located at the top of your bicep muscle, it is connected to what is known as the labrum which is cartilage that lines the shoulders socket. During the biceps tenodesis surgery, your surgeon will release the torn biceps tendon from the labrum, and in some cases, they may relocate the biceps tendon to the upper arm bone which is known as the humerus. Two types of surgeries can complete the biceps tenodesis, which is open surgery, or arthroscopic surgery.

Open surgery is when the surgeon cuts skin and tissues to have a full view of the structures involved in the biceps tenodesis surgery. While an arthroscopic surgery is different in way that it is a minimally-invasive procedure, where the surgeon will use an arthroscope and an endoscope which will be inserted through small incisions in the shoulder to view the area and make any adjustments necessary.
Who is the candidate for this surgery?
You may be considered a candidate if you have symptoms that are related to biceps tendon symptoms, and inflammation, and have completed non-surgical therapies that have not helped including rest, pain medications, cortisone injections, and physical therapy. Often if you are seeing an orthopedic doctor, they will let you know if they recommend a biceps tenodesis surgery or not. We serve patients from Gallatin TN, Nashville TN, LaGuardo TN, Castalian Springs TN, Cottontown TN, and Graball TN.